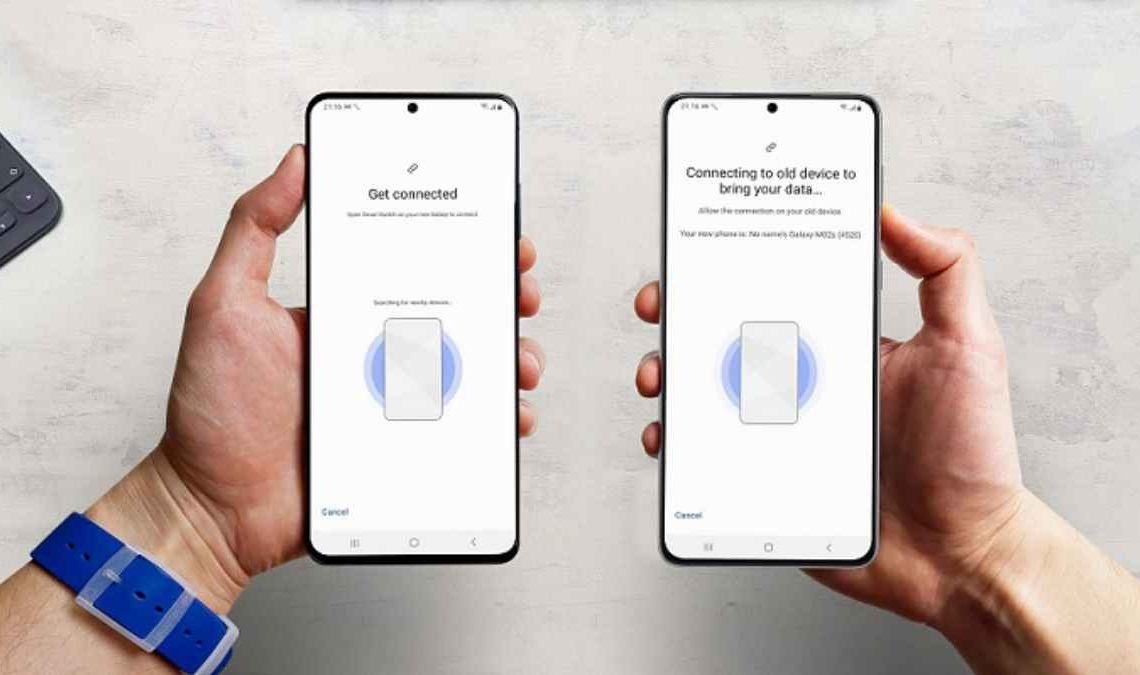 The Samsung Galaxy series is a high-end, feature-rich flagship series. All series of Galaxy smartphones are fortified with tech-savvy specifications along with a higher functionality ratio. Users mainly switch from iPhone to Android because of iPhone's battery life issues. If you also switched from iPhone to Android, you must be looking for ways to transfer data from iPhone to Android.
Most users think the Samsung Smart Switch is the best way to make transfers, yet it's not true. There are a considerable number of apps that can help you with this. Yet the most proficient one is MobileTrans. By the end of this article, you will know which app is a better choice to make transfers between iPhone and Android.
Part 1: How to Transfer Data from iPhone to Samsung Galaxy Using Samsung Smart Switch
In the topic of iPhone to Android data transfer, the Samsung Smart Switch is one of the popular ways. With this, you can transfer contacts, calendars, music, photos, etc. Moreover, it can also help you to transfer wallpapers and essential documents to a new device. You can connect the device with either a Wi-Fi or a USB cable.
Other than this, several permissions are required for the app to function, including call logs, storage, Bluetooth, microphone, etc. Not only Samsung, but you can also transfer data from several mobile brands running on the Android or iOS operating system. Feel free to follow the instructions beneath to make data transfer between iPhone and Android:
Step 1: Access Samsung smart switch on your device and open it. Accept the terms and services by tapping "Continue" and selecting "Allow" to grant permissions. Hit the "Receive Data" button on your new Galaxy phone and select "iPhone/iPad."
Step 2: To proceed, connect both devices with a USB cable and tap "Trust" on your iPhone. By this, the scanning for content will be initiated. Once the scanning is completed, select all the data you want to transfer from and tap "Transfer."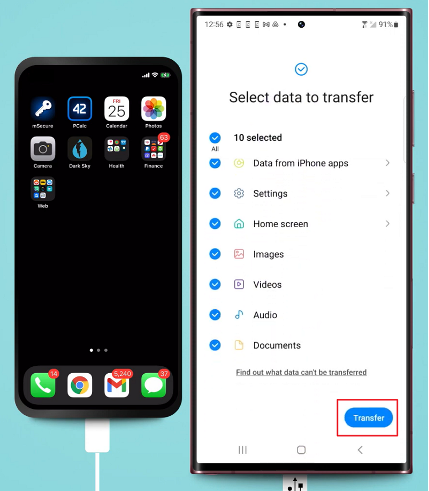 Step 3: After this, select "Install" to install all the available applications you can transfer from iOS and wait a few minutes. Once the process is completed, tap the "Go to the Home Screen" button and check the results.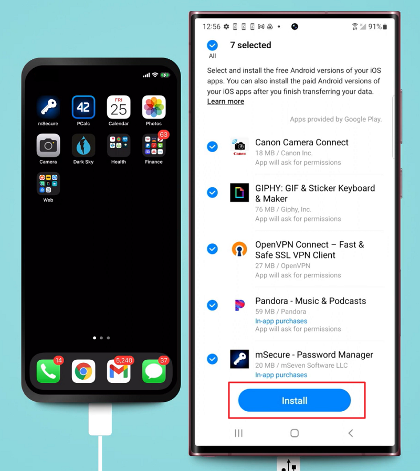 Part 2: The Perfect Alternative to Samsung Smart Switch for Transferring Data
Undoubtedly, the Samsung Smart Switch works well, but you should know that the application we will discuss has modernized features. The best application and reasonable alternative to Samsung Smart Switch is MobileTrans App. The interface of this app is quite delightful and fully established. Moreover, the data transferring speed of MobileTrans is blazing fast.
Connecting devices with a USB cable or Wi-Fi is not restricted. Scan the QR Code to connect both devices. You can also experience selective transfer with this app. It has all the capability to transfer multiple types of data.
Key Features of MobileTrans
You can transfer all types of data with MobileTrans, such as messages, contacts, photos, videos, and more.
With this app, you can also transfer WhatsApp and SMS from iPhone to Android. You can also move WhatsApp business with it.
MobileTrans App is also launching the Google Drive to iPhone feature to make things easier for users.
How to Transfer Data From iPhone to Android with MobileTrans
Want to learn how to transfer data from iPhone to Android using MobileTrans App? The procedure to transfer data from iPhone to Android is listed here:
Step 1: Confirm the Device Status
Install and open MobileTrans on both Samsung Galaxy and iPhone. Click on the "Phone to Phone" transfer module. On iPhone, select "Old Phone," and on Android, select "New Phone."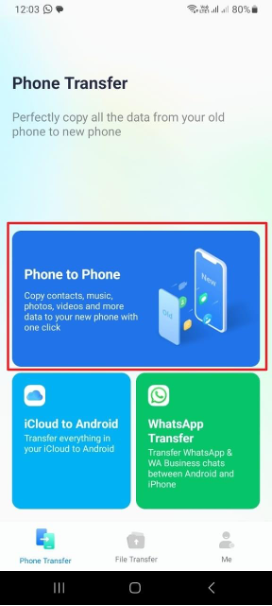 Step 2: Select Data and Connect Devices
Select all the data you want to transfer on your iPhone and hit the "Send" button. Scan the "QR Code" to connect both devices. Next, wait a few minutes, and once the data transfer is completed, recheck all the data to avoid mistakes.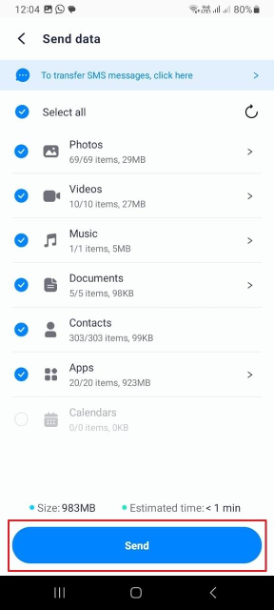 Part 3: What are the Reasons to use MobileTrans Instead of the Samsung Smart Switch
You must wonder which app is better for moving data from iPhone to Android. The below-given reasons will solve your confusion about this:
You cannot transfer data from Android to iPhone using Samsung Smart Switch. However, it is possible with the MobileTrans App.
Samsung Smart Switch also doesn't allow you to transfer data to non-Galaxy Android devices.
If you try both apps, then you will notice that the data transfer speed of the Samsung Smart Switch is pretty slow compared to the MobileTrans app.
The phone connection sometimes breaks while using the Samsung Smart Switch.
Conclusion
As this article states, you can transfer data from iPhone to Android without issues. You can use Samsung smart Switch or MobileTrans, its best alternative. The process of data transferring with both Samsung Smart Switch and MobileTrans is instructed above. Yet the most reliable one is MobileTrans. Why? You can see them from the reasons discussed in Part 3 of this article.