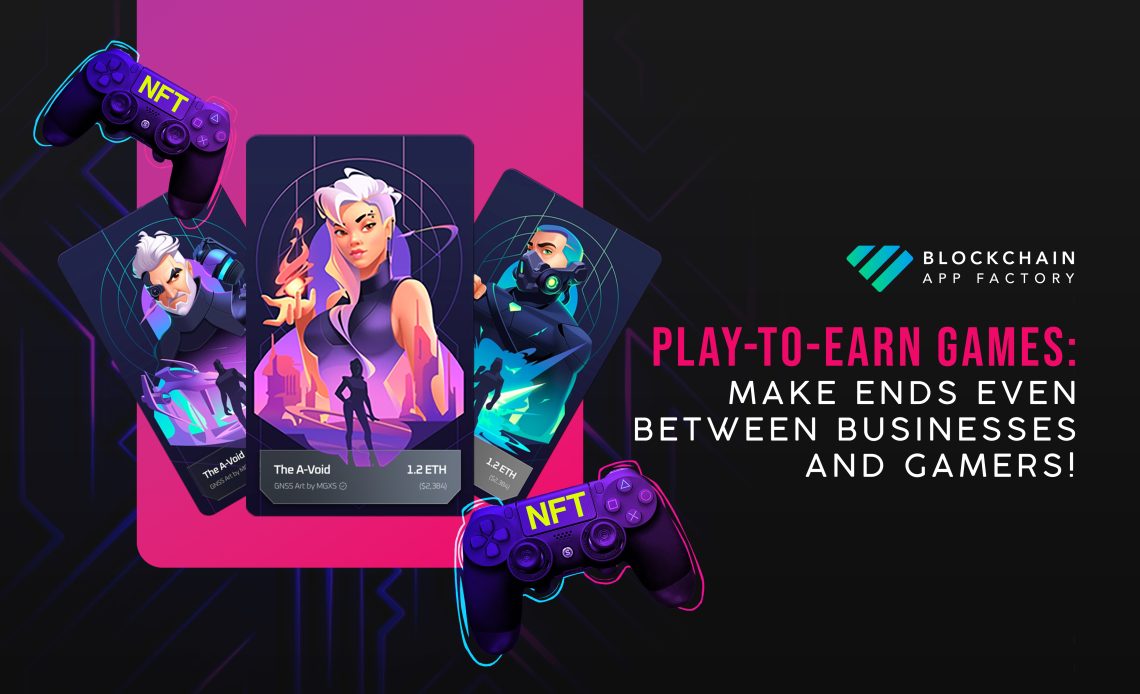 The crypto world currently (Q3, 2022) has been an extension of the crypto winter that had started earlier in the year. Yet, some blockchain projects gained reputation and profit margins, including some Play-to-Earn NFT games. Ever since the model's debut with the once-popular "CryptoKitties" in 2017, the model has met with huge success. It was during the 2021 NFT boom that Play-to-Earn NFT game development found itself becoming part of hot trends, with millions poured into the newly-shaped Web3 gaming industry. This blog offers more insights about building P2E NFT games from the eyes of an aspiring blockchain entrepreneurial mind.
What are Play-to-Earn NFT Games?
Before we jump too deep into the business perspective of blockchain gaming, let us acquaint ourselves with basic information. Play-to-Earn NFT games are blockchain-based platforms where users can earn cashable rewards and owned assets by playing games. The mechanism uses crypto tokens for mission rewards and non-fungible tokens (NFTs) for in-game assets that can be owned by gamers. These platforms are device and browser-friendly, letting users access them anywhere, anytime.
While one might be tempted to think of extravagantly futuristic interfaces while thinking of these games, it is not necessarily required in reality. The gaming interface will be similar to traditional gaming platforms in most cases, and the difference hits hard while owning tokens and assets. That being said, it is also possible for games imagined above to be possible, most of which are under development and would make huge parts of the metaverse revolution in the near future.
What is the Business Point of Running Such a Game?
While Play-to-Earn NFT game development mostly revolves around benefits that users get, the focus on businesses launching these platforms is less spoken. Although P2E games have their own in-game economy powered by users and transactions occur in a decentralized manner, there is no point for a business to develop such platforms if there are no profiting possibilities. The business point of running such an NFT-based game is to share profits between gaming ventures and gamers. It is essentially a shared governance model which gives increased benefits for end-users which was next to impossible before. Also, businesses can have less burden on market trends and updating software as the community could help with such issues.
Currently Popular Play-to-Earn NFT Games
Axie Infinity is a P2E NFT game based on battling using virtual monsters called "Axies." Players can earn from participating in battles, breeding, and trading Axies and other assets.
Splinterlands is a Play-to-Earn game based on NFT trading cards that is free to play. Players earn rewards by fighting battles against other players and trading collectible cards.
Illuvium is an MMORPG P2E NFT game based on NFT avatars called "Illuvials." Their skills develop as players earn rewards by battling with other players. These avatars are tradable.
Decentraland is a Play-to-Earn metaverse-based game where players can shape their avatars, buy land, and build their own businesses or games. They can even earn rewards through playing mini-games built in the ecosystem.
The Sandbox is a voxel-based P2E NFT game where people can build their own ventures to earn money. For adventurous gamers, there are games that can be played to earn rewards.
Zed Run is a digital horse racing NFT game where players breed and race horses to earn rewards.
Play-to-Earn NFT Game Development: The Process
As we have been speaking about Play-to-Earn NFT game development for a long time, it is time to actually have a sneak peek of the process behind the scenes of launching a successful P2E NFT game.
Before we proceed any further, one should know that Play-to-Earn NFT game development can be carried out from the ground up or ready-to-launch gaming solutions similar to popular games. Both are possible for all gaming genres, making a future venture owner spoilt for choices. An important factor that sets each of them apart is the resources spent in terms of time and money. While starting from scratch costs more money and time, utilizing a ready-to-launch solution costs comparatively fewer resources. Another notable point is that P2E NFT game development from scratch results in exclusively unique platforms, and launching from pre-made solutions results in platforms similar to popular games. Given below are the general steps:
Planning and documentation
Prototyping through UI/UX design
Front-end development to create the user-end
Back-end development to ensure that gameplay is seamless and secure
Smart contract and blockchain integration to bring in P2E elements
Testing and troubleshooting
Promoting the Play-to-Earn NFT game
Launching for public use
Staying with trends through updates
More Novel Dimensions of Play-to-Earn NFT Game Development
While Play-to-Earn NFT game development has been aggressively earning a reputation among gamers, it also brings some concerns that are being attempted to be addressed through various derivative gaming mechanisms. Metaverse gaming is trying to provide a more fiction-like gaming experience using AR and VR technologies. Move-to-Earn (M2E) focuses on the concerns about gamers' health by incentivizing them with real-world rewards for physical movement in some form. NFT rentals allow players to rent their in-game NFTs to other players if they cannot play the game due to some reason.
As an Aspiring Entrepreneur, What Can I Do?
Well, while there are so many options spread across Web3, this blog speaks specifically about one of the safest options in Play-to-Earn NFT games. You can progress with a gaming idea and build a platform to begin your venture as an entrepreneur. It is highly recommended that you should opt to work with an experienced Play-to-Earn NFT game development company as experts there can take some burden off your shoulders. You can also save valuable resources by assigning your dream project to such a firm.