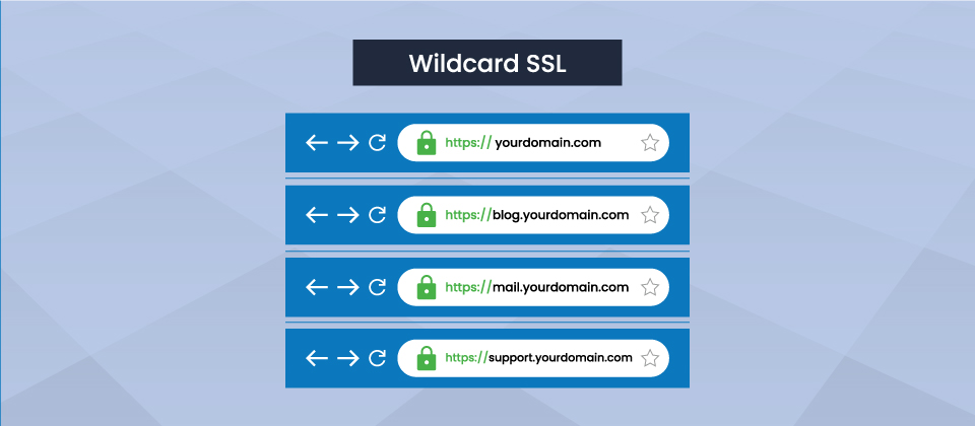 For websites with multiple sub-domains, it is always challenging to manage the purchase and installation of each sub-domain individually; thankfully, now you need not spend your money on multiple certificates. With a Wildcard SSL certificate, you can install a single SSL certificate and get going. Still couldn't understand this SSL certificate and how it works? Let us help you!
A Wildcard SSL certification allows you to protect multiple subdomains under a single primary domain, saving you time from paying for and managing all the other SSL that you would have otherwise had to work individually. It also massively reduces their costs and allows you to make appropriate savings.
A Brief Insight into Wildcard SSL Certificate
Wildcard SSL certificates are an excellent option for businesses securing their subdomains under a single SSL environment. They offer strong encryption of 256-bit and save time since there's only one certificate to manage. Moreover, it is usually cheaper than a multi-domain SSL Certificate, making them an economical choice for businesses.
That is why more businesses dealing with diverse domains purchase Wildcard SSL certificates for convenience. Hence, it is beneficial for small businesses that cannot afford to invest enough in many domains and their certificates.
Generally, there are two types of Wildcard SSL certificates.
1. Domain Validation
If you get a DV Wildcard SSL, the Certificate Authority (CA) will process and issue your certificate instantly; usually, on the same day, the CA only needs to validate the domain name. It makes DV Wildcard SSL the most straightforward option for securing multiple subdomains.
2. Organization Validation
Wildcard SSL with Organization Validation is a perfect option for a business that is legally registered & looking for a superior level of security; this is mandatory because when the certificate is issued, it will display the address and name of the business to its potential customers. If users click on this certificate, they can receive information on the company to whom the certification was issued.
Most people assume that the only benefit offered by Wildcard SSL certificates is that they help reduce time and cost. But that is not all; it can also help promote better flexibility and versatility in business by boosting encryption efficiency and scalability.
How Does a Wildcard SSL Certificate Work?
We have already discussed the two main types of Wildcard SSL. Now, each subdomain receives a private key shared by this certificate. This key is integral as it needs to be copied when the certificate is downloaded onto the server.
Here's an example to help you understand it better-
If your domain name is example-domain.com, then the Wildcard SSL certificate will be provided for *example-domain.com. After installation, the certificate provides security to all the remaining first-level subdomains, as the Wildcard SSL only provides security to first-level subdomains. Here are a few examples-
login.example-domain.com
help.example-domain.com
contact.example-domain.com
What Are the Advantages of Using Wildcard SSL?
1. Security for Unlimited Domains
Creating diverse subdomains for your business may become essential to ease the process of selling and purchasing. But now, you need not worry about buying a different SSL certificate for each domain. With a Wildcard SSL certificate, you can access all of them and provide each of them paramount security under a single cert. Hence, you can now provide security to an infinite number of domains without spending more money.
2. Easy to Manage
Wildcard SSLs are relatively easy to manage since they cover multiple sub-domains under one certificate; you don't need to install separate certificates for each sub-domain, which would be tedious and time-consuming. Instead, you can install a single SSL certificate covering all your sub-domains, making it easier to keep track of and manage the certificates.
3. The Price Is Nominal
Whether your business is small or medium, you might not want to invest more money in multiple SSL certificates as they can be very pricey. Their management is challenging, too, as discussed above. But the Wildcard SSL certificate makes an exception; since they provide unlimited subdomain security, they are a better option than looking for a single SSL certificate.
What Is the Difference Between Standard SSL and Wildcard SSL Certificates?
Any SSL certificate is equipped to offer comprehensive encryption and security. They will ensure your website is protected from cybercrime under all circumstances. If a hacker or cybercriminal cracks into the system, it helps detect them immediately so necessary actions can be taken to mitigate the risk.
However, a Standard SSL certificate comes with entry-level security that may only apply to a single domain. On the other hand, Wildcard SSL Certificate can help cover infinite subdomains under a single domain. So, if your business has multiple subdomains that require protection, a Wildcard SSL is it.
The Bottom Line
Wildcard SSL Certificates are ideal for those websites seeking the utmost website security, saving tons of money and time alongside building paramount customer trust. It can also help with easy certificate management and a more intelligent choice in the long run. Before you hop on to choosing this certificate, please consider if your business requires one in the first place. Also, do not forget to thoroughly check if you have sufficient finances to invest in these certificates. Remember that choosing a Wildcard SSL certificate could be great for businesses with multiple subdomains to manage.